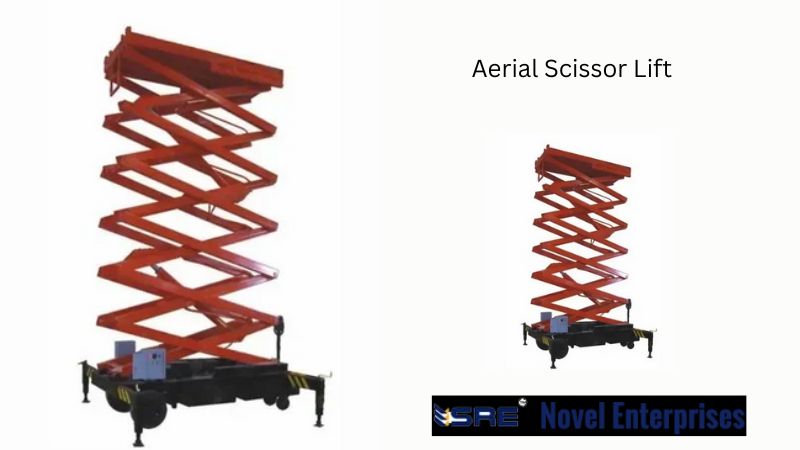 Aerial scissor lifts, also known as mobile elevated work platforms (MEWPs), are versatile machines that provide a safe and efficient means of working at heights.
They consist of a platform that can be raised and lowered using hydraulic or electric power and are mounted on a wheeled or tracked base, allowing them to be easily moved around a worksite.
Even while aerial scissor lifts tend to be associated with construction, their range and flexibility make them suitable for a variety of tasks. An aerial scissor lift can help with farm work, maintenance, cleaning and warehousing.
They are used in a variety of industries for tasks that require working at height. They provide a safe and efficient way to access hard-to-reach areas, improving productivity and reducing the risk of accidents. Some of the uses are:
Construction
In place of ladders and scaffolding, aerial lifts are frequently employed for tasks. Compared to either of those choices, they are more adaptable. Aerial scissor lifts can be used by construction workers to install wiring or ducting in a building. They may also be used to get access to HVAC and pipework.
Entertainment and Events
They may bring a fresh perspective and an innovative idea to the media and entertainment industries, whether you're covering a sporting event or photographing the red carpet at an awards show. Camera operators can be raised above the action by these lifts on the sidelines, providing the audience with a better bird's-eye view and enabling them to see more of the action.
Maintenance
Aerial scissor lifts are additionally used for maintenance tasks including window washing, light bulb replacement, and roof repair. They offer a rapid and effective means of getting to difficult-to-reach places.
Warehousing
In warehouses, aerial scissor lifts are used for duties like stock retrieval and stacking. By removing the need for ladders or physical lifting, they can increase efficiency while allowing access to high-shelving units.
Retail
To replace lighting fixtures, signage, and ceiling tiles in retail businesses aerial scissor lifts are used. They offer a quick and effective approach to completing these activities without impeding consumer flow.
Events
In the organisation of events, aerial scissor lifts are used for operations like setting up stages and placing lighting fixtures. They give workers a secure and safe platform from which to carry out these high-level duties.
Sporting Events
Aerial scissor lifts can be used for stadium and arena maintenance as well as television crew coverage of sporting events. They can be used to hang and replace lighting or maintain scoreboards. If there's maintenance that needs to be done on the inner roof of an arena or domed stadium, they can be helpful there, too.
In conclusion, aerial scissor lifts have revolutionized the way many industries conduct operations at heights, providing a safe and efficient means of accessing elevated workspaces. From construction sites to warehouses and manufacturing plants, the diverse uses of aerial scissor lifts have made them indispensable tools for many businesses.
As such, it is essential to source them from reliable suppliers who can provide high-quality, reliable machines that meet the specific needs of the industry. Aerial scissor lift suppliers play a critical role in ensuring that businesses can access the latest technology and safety features, ultimately improving productivity and safety in the workplace.
Therefore, it is crucial to choose a reputable supplier that can offer tailored solutions to meet the specific requirements of the industry.